Journal Entry:
Wed Aug 7, 2013, 8:48 AM
Thank you very much to everyone who participated! It's been a long and tedious process, but we managed to get to it!

(((o(*゚▽゚*)o)))


Now without further ado the winner of this raffle is.........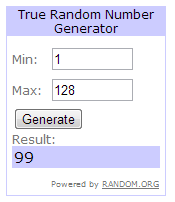 The mascot of the event will now belong to #99 RishuMisu
Congratulations!
Dayrili or Ehwhaaa will contact you shortly to give you your prize and discuss some details!

Watch

A lot of people got in > w < Congrats~
Reply

Did the people that had put in the answers on tumblr before any of the journals were posted get counted in too?
Reply

i guess so since dayrili said that its ok if u submited ur answer on tumblr that it still count
Reply

///screamss omg I got in!!!!! Q v Q
Reply

I got the right answer, but I'm not on the list.

Reply

//Happy crais// Omigod yesssssss amg amg I got in
Reply

This would make my head hurt, I shall decline, lol.

Good luck to any who enter~~!
Reply

This looks supercool!! Unfortunately I'm on my phone so somehow I can only see half the journal but the concepts really cool!
Reply